First, let's determine your fundraising goal.
What kind of impact would you like to make?  Here are some examples of what your fundraising efforts mean to the animals.
​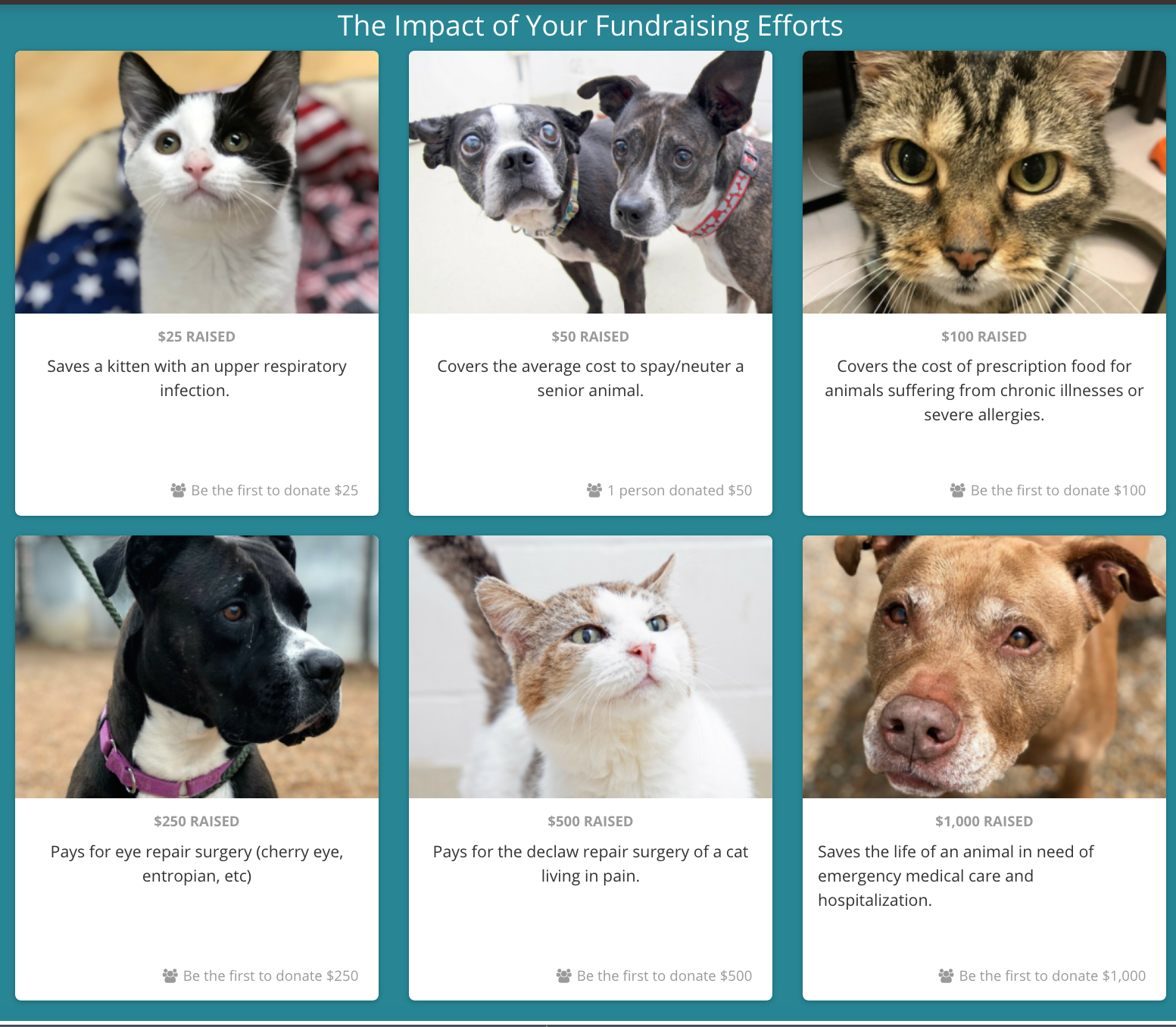 How competitive are you?   Trophies, prizes, a feature on our Facebook page and bragging rights will belong to the following:
How much free stuff would you like?  Gift cards, amazing gift baskets and more are yours when you achieve the following fundraising levels.  Plus, the prizes are cumulative.  You'll keep winning the more you raise!
PRIZE PACKAGES
INDIVIDUAL OR TEAM FUNDRAISING LEVEL



2018 Woofstock T-Shirt


$100

$25 Three Dog Bakery Gift Card & 2018 Woofstock T-Shirt
OR
2 Skyzone Passes (30 Minutes) & 2018 Woofstock T-Shirt

$250

Skyzone Family 4-Pack (60 Minutes) & 1 Large Domino's Pizza
OR
$50 Three Dog Bakery Gift Card & 2018 Woofstock T-Shirt

$500

2 Skyzone Family 4-Packs (60 Minutes) & 2 Large Domino's Pizzas
OR


$100 Gift Card to Three Dog Bakery


$1,000
$150 Three Dog Bakery Gift Card
OR
Domino's Pizza Party (10 Large Pizzas)
$1,500

$200 Three Dog Bakery Gift Card

$2,000

$250 Three Dog Bakery Gift Card
OR
$250 Visa Gift Card

$2,500

Skyzone Fun Package (Includes Eight (8) 60 Minute Passes), 3 Large Domino's Pizzas, and Woofstock T-Shirts for Eight
OR
$300 Visa Gift Card

$3,000

Premium Wilbur Ties Gift Basket with Custom Made Dog Products
OR
$500 Visa Gift Card

$5,000